List International Realty Co., Ltd. Announces Its Start of Applying "WealthPark Business" in its Management & Operation for All Hawaii Properties
[TOKYO, JAPAN, March 25th, 2020] WealthPark Co., Ltd. (hereinafter "WealthPark") and List International Realty Co., Ltd. (hereinafter "LIR"), a consolidated subsidiary of List Co., Ltd., together launched a new cooperation. From April 2020, LIR will start providing information services to property owners through "WealthPark Business", an asset management tool enabling property owners to check the rental income and expenditure easily on mobile application and website.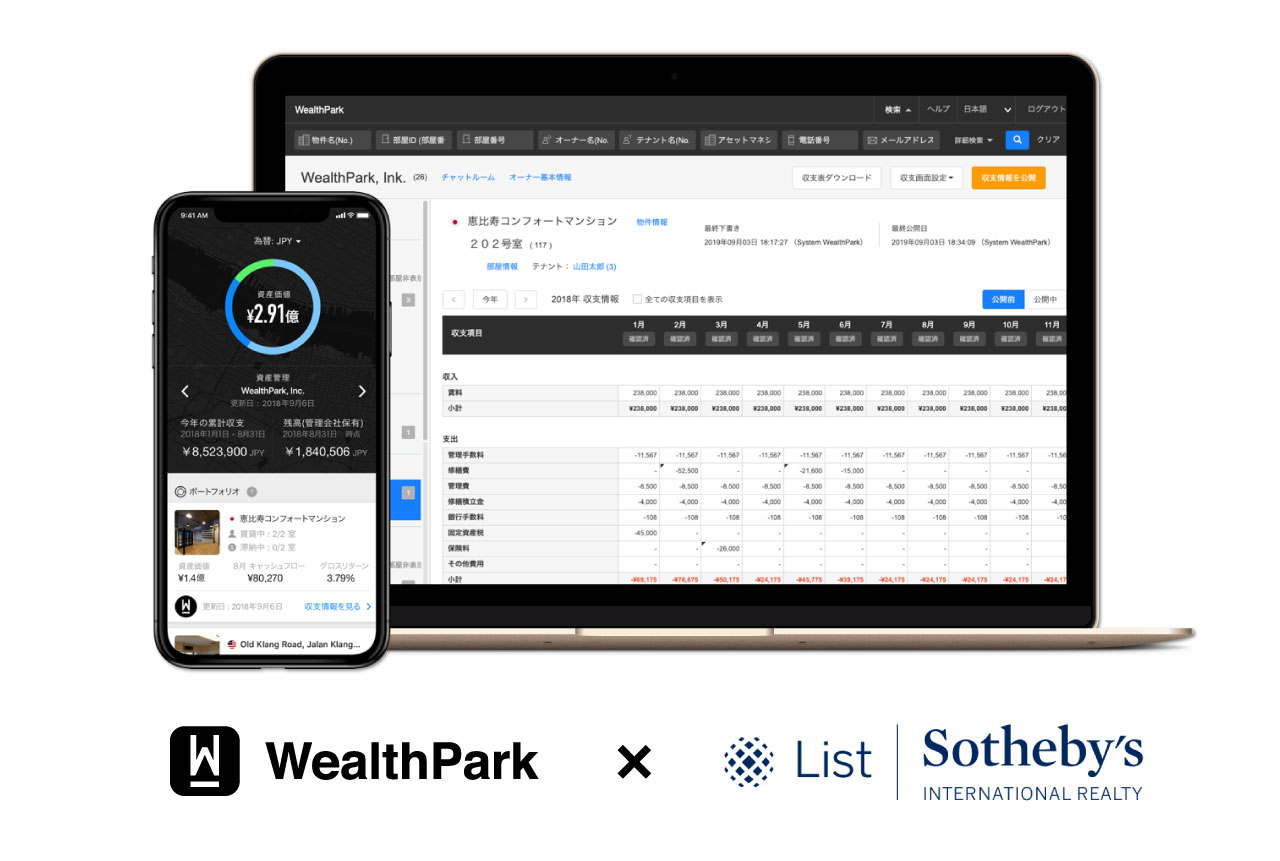 In 2012, LIR expanded its business to Hawaii by participating in the development of the luxury condominium "One Ala Moana" in Oahu. From then to now, LIR has established two branch offices in Hawaii and started providing a one-stop solution service that covers not only development but also brokerage, post-sale property management, and sales consultation. With the scale expansion, the increase in man-hours required on the interaction between LIR and the property owners have become an issue.
Starting from April 2020, with the introduction of "WealthPark Business", all of the Hawaii properties LIR has been entrusted with management will be applied to the new management tool and the above-mentioned issue is expected to be smoothly addressed. Going forward, WealthPark and LIR will keep the commitment to further improve property owners' user experience and satisfaction.
About List Co., Ltd. and List International Realty Co., Ltd.
List Co., Ltd. (now renamed as List Development Co., Ltd.) is a real estate agency established in 1991. Since then, it has expanded its business to various fields in the real estate industry, such as the development and sale of detached houses/condominiums, asset management, and redevelopment projects. In 2016, it experienced a reorganization, adopted a holding company structure, and transferred its core management system to one "List Group". In 2010, List International Realty Co., Ltd. acquired the brokerage brand "Sotheby's International Realty®" originated by Sotheby's and became an international brand with the real estate brokerage and development businesses in Singapore, Hong Kong, the Philippines, and Thailand. Starting in Hawaii, List Group will continue to provide its customers with valuable real estate through all business it's involved in.
Headquarter: 4-47 Onoecho, Naka-ku, Yokohama-shi, Kanagawa
Representative Director: Naoyuki Kitami
Business Overview (LIR): October 16, 2009
Business Overview (LIR): Real estate sales and leasing brokerage, consignment sales, property management, asset consulting services, non-life insurance agency
Company HP: http://www.list.co.jp/
https://www.listsothebysrealty.co.jp/sales/
About WealthPark Co., Ltd.
WealthPark provides property management companies with operational efficiency and management support tools. The system it developed has been used by many property management companies in Japan and overseas. The mobile application as the communication tools between management companies and property owners is applied in four languages (Japanese, English, traditional and simplified Chinese) and is currently offering services in 6 countries/regions. The company values diversity well. About half of the approximately 90 employees are foreigner talents from 10 countries. In addition to being experienced in the real estate industry, the members also equipped with wide knowledge from various backgrounds such as manufacturers, consulting firms, investment banks, funds, e-commerce, etc.
Headquarter: 1-20-18 Ebisu, Shibuya-ku, Tokyo 3F, Mitomi Building New Building
Capital: 707 million yen (February 29, 2020)
President & CEO: Ryuta Kawada
Locations Tokyo, Shanghai, Hong Kong, Taipei, New York
Service provision Japan, China, Taiwan, Hong Kong, United States, United Kingdom
Company HP: https://wealth-park.com/