WealthPark Announce New Offering to Help Assess Real Estate Value using Artificial Intelligence powered by PriceHubble.
TOKYO, Japan, July 17, 2020 – WealthPark Co., Ltd (Below referred to as WealthPark. Shibuya District, Tokyo. CEO: Ryuta Kawada.) is pleased to announce a new feature, developed in conjunction with Pricehubble AG.(Headquartered in Zurich, Switzerland. Founder:Stefan Heitmann, Markus Stadler CEO:Julien Schillewaert.), on the WealthPark APP allowing investors to use artificial intelligence (A.I.) in assessing property valuation and rent. The WealthPark APP is currently used by more than 10,000 real estate owners internationally and this rollout will help investors' journey into intelligent investing.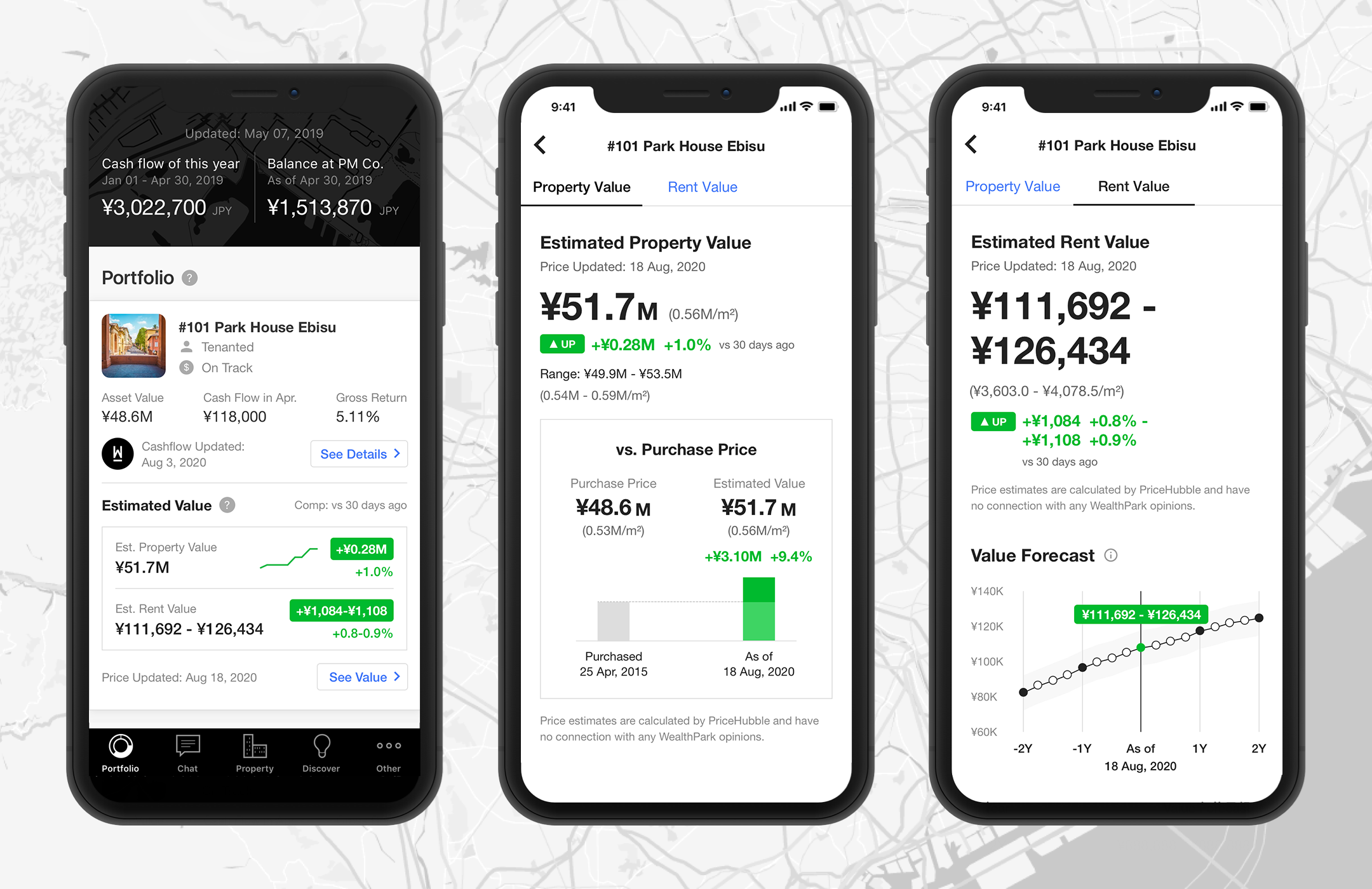 Background
As an investor, understanding the pricing and valuation of real-estate assets is the first step towards making any decisions. Investors who recognize movements in asset prices and market trends can pre-emptively capture gains by updating the portfolio or invest in new assets.
Setting a competitive rental pricing strategy is crucial to optimizing the rental yield and is contingent on neighboring properties, market trends, and property characteristics.
The new feature is powered by the cutting-edge A.I. valuation model developed by PriceHubble AG, a part of the Top 50 EU PropTech Startup and Scaleups. WealthPark is dedicated to meeting the needs of our real estate investors and will continue to take strides in advancing our technology.
Feature Details
As assessed values and rents are constantly fluctuating in line with market conditions, WealthPark APP's feature democratizes market value data for investors. The feature visualizes the difference between market value and the purchase price as well as comparisons with previous months. Furthermore, it provides predictive analytics where the A.I. will provide a valuation forecast.
These features allow property investors who use the WealthPark APP to make the most informed decision while managing their assets based on "objective assessment results" calculated using big data and A.I. technology.
WealthPark will first launch this feature for our contracted owners with properties in Tokyo and will gradually expand to other regions. This feature will also be available for property management companies using WealthPark Business, WealthPark's SaaS software, where they can provide the AI-powered markt price feature to their served property owners.
About PriceHubble
Head Office Location: Brandschenkestrasse 30,8001 Zürich Switzerland
Founder: Stefan Heitmann, Markus Stadler
CEO: Julien Schillewaert
Branch Offices: Switzerland, France, Germany, Japan
Company Official Website: https://pricehubble.com/
About WealthPark
Head Office Location: 3F Mitomi New Bldg. 1-20-18, Ebisu, Shibuya-ku, Tokyo 150-0013, Japan
Capital: JPY 707 million (As of February, 2020)
Representative: Ryuta Kawada
Number of Employees: 90 (As of February, 2020)
Branch Offices: Shanghai, Hong Kong, Taipei, New York
Service-Provided Countries/Regions: Japan, China, Taiwan, Hong Kong, the US, the UK
Company Official Website: https://wealth-park.com/en/
Contact Information
If there are any inquiries regarding this announcement, please contact WealthPark's PR division.
Mail: pr@wealth-park.com