WealthPark Co. Ltd and DocuSign Partner to Accelerate Digitalization of Contracts between Real Estate Investors & Management Companies
WealthPark Co., Ltd. ("WealthPark"), a digital platform provider for property owners and property management companies, is pleased to announce its new strategic partnership with DocuSign to provide our joint customers with the cutting-edge e-signature solutions.

DocuSign helps organizations connect and automate how they prepare, sign, act on and manage agreements. As part of the DocuSign Agreement Cloud, DocuSign offers eSignature, the world's #1 way to sign electronically on practically any device, from almost anywhere, at any time. Currently, DocuSign's solutions are adopted by over half a million companies and hundreds of millions of users in over 180 countries due to its focus on security and user-friendliness. DocuSign eSignature meets some of the most stringent global security standards, and uses the strongest data encryption technologies available. It is also as legally enforceable as paper-based contracts with wet signatures.
E-Signature technology has disrupted the paper-based agreement process by providing clear benefits such as enhancing security, reducing costs, and making operations more effective. As companies are adjusting to remote work due to Covid-19, the companies are turning their attention to e-signatures than ever. The advantages of this technology are perfectly applied to the real estate industry and it is only natural more real estate companies will further accelerate to adopt e-signatures into their processes and operations.
Feature Details
Through this partnership, DocuSign eSignature will be fully integrated into the WealthPark's product suite, powering investors and property management companies to digitize various agreements effectively. Property owners and property management companies will be able to manage and complete not just operation workflows but also agreements just within the WealthPark platform through the integrated solutions.
Through integrating DocuSign solutions into WealthPark Activity feature, property management companies can fully digitize their operation processes from signing contracts with the owners to getting approval on maintenance and leasing in just one click. These workflow requests and contracts are stored digitally allowing for easy management by visualizing the current status of all contracts and fostering accuracy. This feature also lowers costs associated with paper contracts such as reducing printing expenses, eliminating mailing costs, and stamp tax-related expenses.
We target to launch the integrated feature by the end of the 2020 fiscal year (March 2021).
Real-estate companies have accelerated DX (digital transformation) processes by embedding technology into their everyday operations. At WealthPark, we believe that having an integrated & cohesive product is critical for our customers in the real estate industry to drive their digital transformation. WealthPark is committed to utilizing and integrating the best external services to provide our clients with the most cohesive and value-creating solutions.
The Feature for PM companies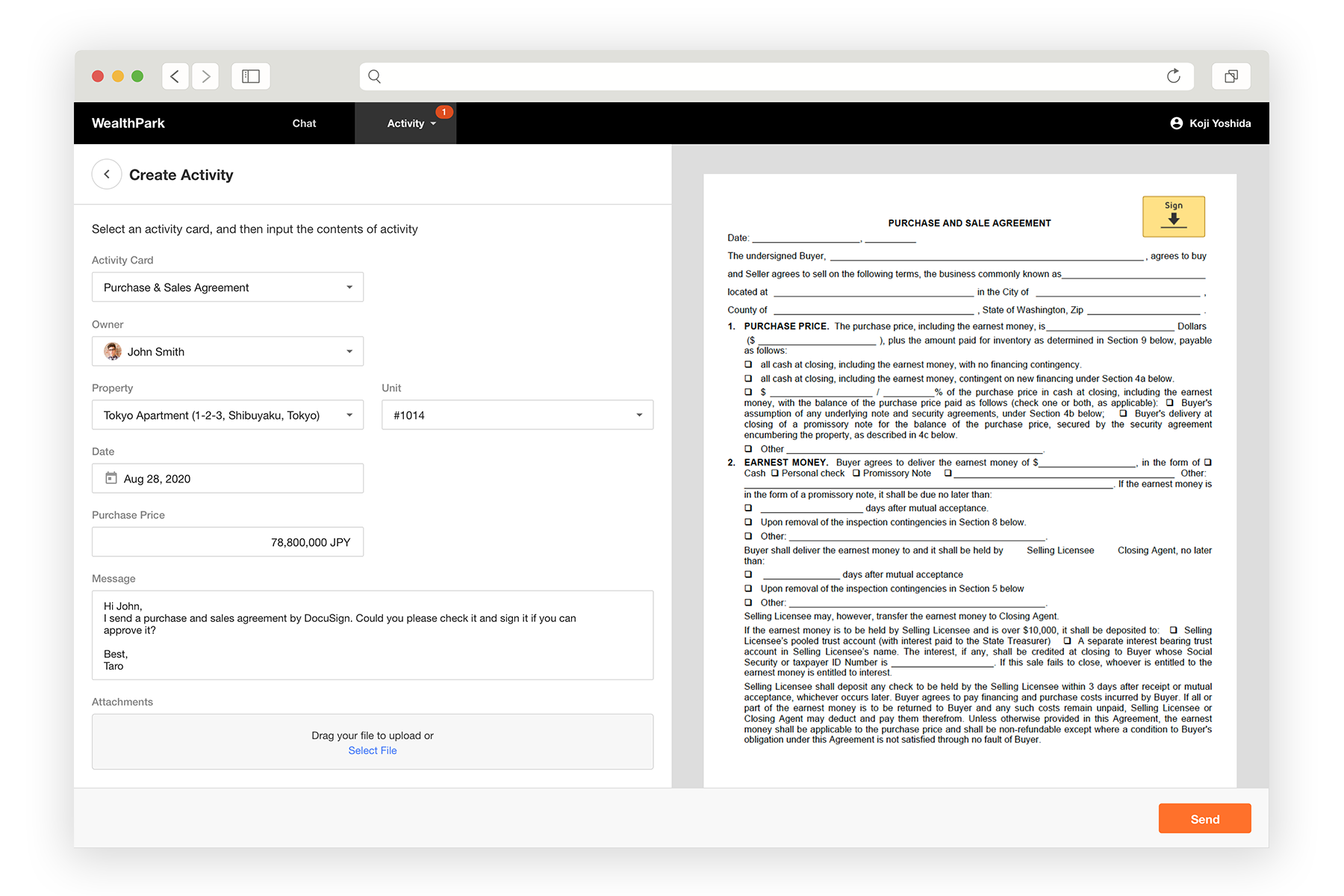 The Feature for Owners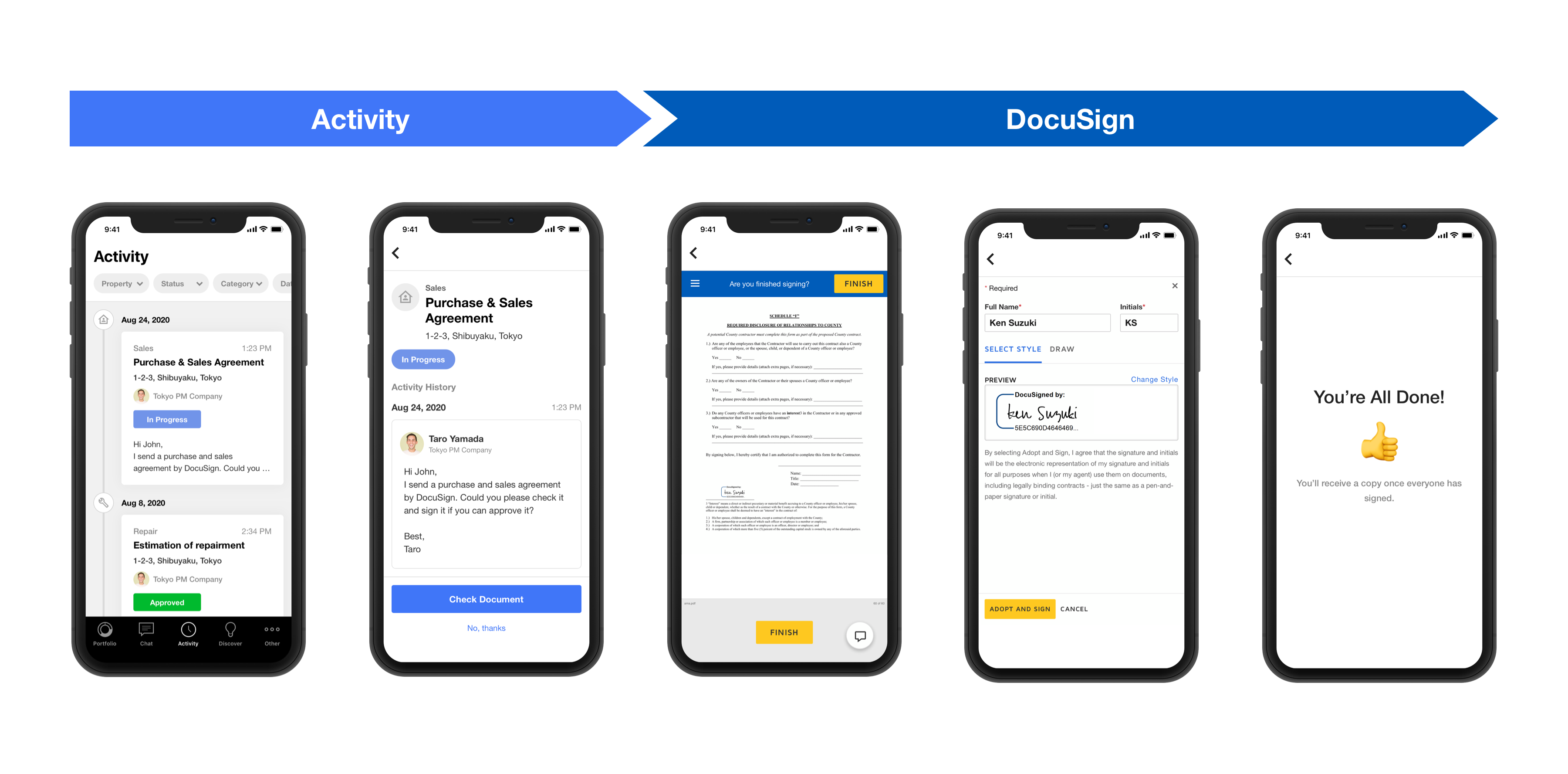 About WealthPark
We provide business efficiency and management support tools for real estate property management companies, and have on-boarded many domestic Japanese and overseas property management companies since our product launch.
In addition, the mobile application, which is a communication tool between the real estate management companies and the real estate owners, has been launched in four languages (Japanese, English, traditional Chinese, and simplified Chinese), and currently used in six countries and regions.
The team is diverse, with half of the employees coming from overseas.
Also, it is comprised of members who have experience in different industries, including
manufacturing, consulting, investment banks, funds, e-commerce and real estate.
HP:https://wealth-park.com/en/
Contact Information
If there are any inquiries regarding this announcement, please contact WealthPark's PR division.
Mail: pr@wealth-park.com