Able Inc. and WealthPark Co., Ltd. Announces Business Partnership ~Leveraging Technology to Drive Investor Satisfaction~
WealthPark Co., Ltd. (Headquarter: Shibuya, Tokyo; CEO: Ryuta Kawada; "WealthPark") will be deploying its "WealthPark Business" solution to facilitate Able Inc. (Headquarter: Minato-ku, Tokyo; President: Daisuke Sakai) in helping real estate investors with asset management through an APP. This partnership will expedite property management digitization, improving efficiencies, services, and communications with investors.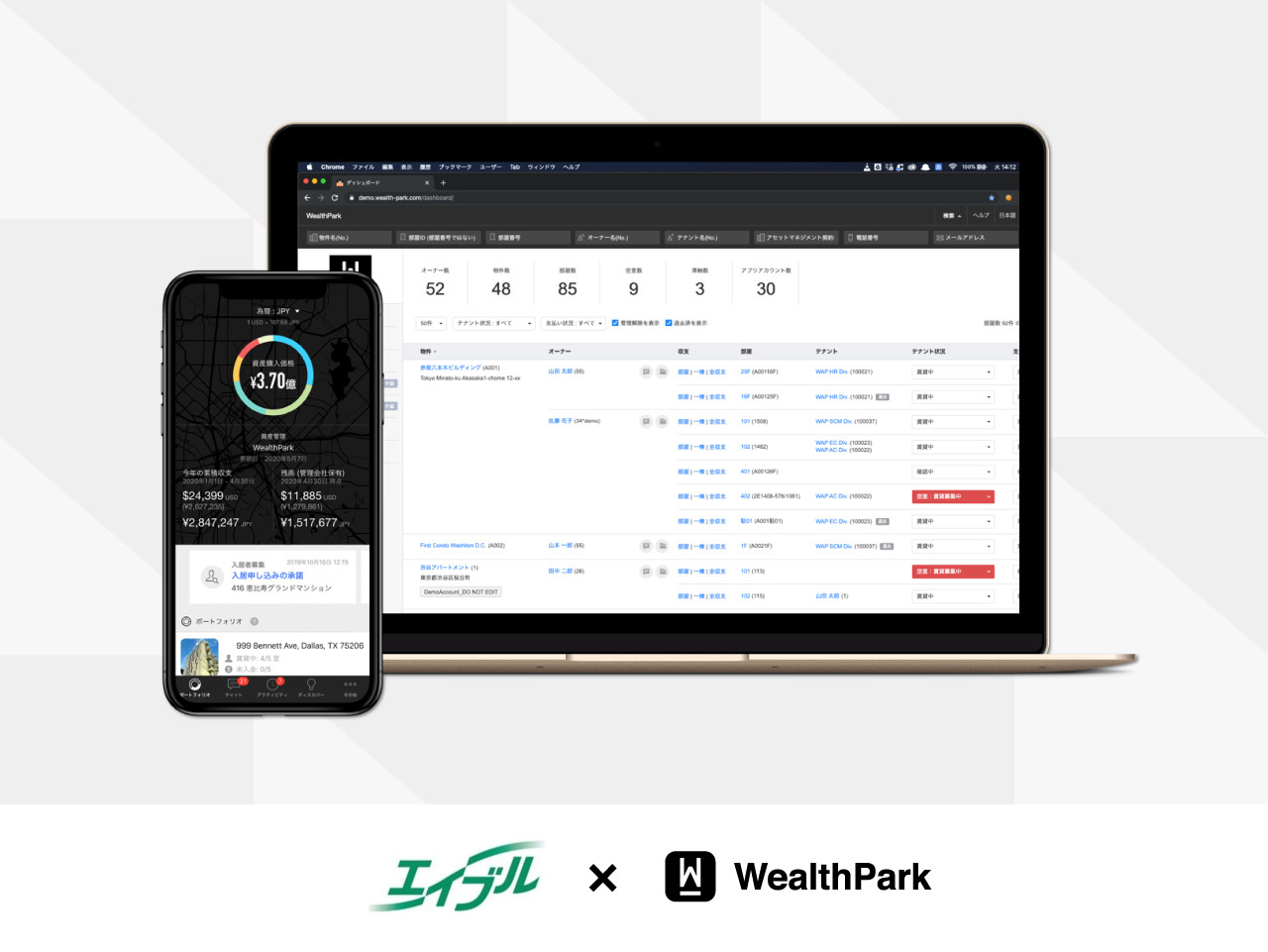 Background
Able Inc. is a leading international real estate leasing company headquartered in Japan with a mission to "create new values and realize more secure, comfortable, and prosperous lifestyles". By implementing the "WealthPark Business" system, Able Inc. will digitize the income statements and communication with investors, simplifying and improving the efficiency of business processes to drive customer satisfaction with better service.
About WealthPark Business
"WealthPark Business" is an asset management tool that allows real estate investors to oversee their investments and access their monthly/annual income statements through an APP or an online browser. Compared with traditional paper reports or static PDF reports, investors can see the lease status and cash flow promptly. This visualization would enable investors to make investment decisions quicker to increase their investment returns.
Additionally, by converting faxes, traditional mails, and even emails as the communication channel to the "WealthPark Business" online chat rooms, the communication will be improved and securely stored. This will result in smoother communication with real estate investors, higher customer satisfaction, more efficient management of the business, and the provision of higher value-added services.
About Able Inc
Head Office: 1-5-5 MOTOAKASAKA SF Building Motoakasaka, Minatoku, Tokyo 107-0051, Japan
Executive: DAISUKE SAKAI
Incorporation of Company: July, 1979
Business: Real estate leasing agency with the largest physical store network in Japan for its leasing business.
About WealthPark
WealthPark provides management support tools that promote business efficiency to real estate management companies. Since the launch of the service, it has been used by many real estate management companies both domestically and abroad. In addition, the WealthPark Mobile App, a communication tool between real estate management company and its customers (real estate investors), is currently available in four languages (Japanese, English, Traditional Chinese, and Simplified Chinese) and used in six regions.
The Team is composed of very experienced and very varied people among the 92 employees, approximately half of whom are foreign nationals and come from 13 different countries.
Besides not only from the real estate industry, the team consists of diverse experienced members such as well-known manufacturers, consulting firms, investment banks, funds, E-commerce, etc.
Company Profile
Company Name: WealthPark Co., Ltd.
Capital and Additional Paid-in Capital: JPY 1.007 billion (as of July, 2020)
CEO: Ryuta Kawada
Number of Employees: 92 (As of September, 2020)
Locations: Tokyo, Shanghai, Hong Kong, Taipei, New York
Service Coverage Areas: Japan, China, Taiwan, Hong Kong, UK, USA
Website: https://www.wealth-park.com/en/
<For other inquiries related to this press release>
Please contact the WealthPark PR department at pr@wealth-park.com.