4 Benefits of WealthPark App for Japan Property Investors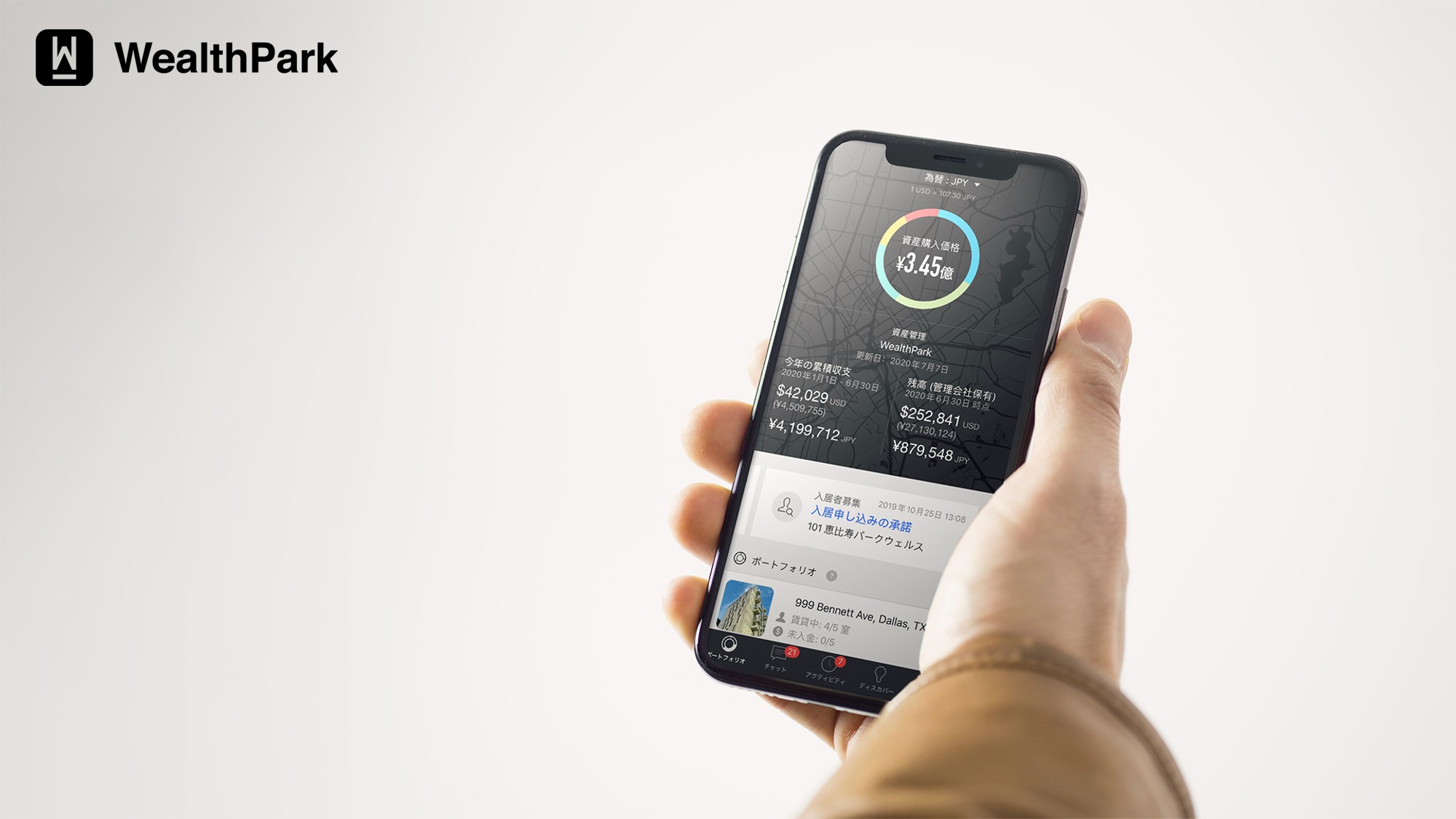 As e-commerce and online stock trading through mobile devices become prevalent, WealthPark believes that digitizing property management and investment services can bring convenience and global opportunities to overseas investors.
WealthPark's digital property management services are operated by a team of real estate and financial professionals. What are the benefits for investors to use WealthPark for their overseas property management compared with traditional services? Below are 4 major benefits.
Free to Use WealthPark App, No Extra Charge
WealthPark's management fees for Japanese properties are mostly in line with Property Managers, meaning WealthPark App is free for investors to use without any extra fees. By providing the App for free, WealthPark wants more investors to experience the advantage of a digital property management platform, enabling investors to enjoy the convenience of managing overseas investments similar to that of managing local investments, and gain the confidence in Japanese properties investments.
Once investors become WealthPark's customers, they can install the WealthPark App and create an account with their registered emails to start using our service.
Install the WealthPark App now and click "Sign In as Guest" to try our demo!
(App Store, Google Play)
Monitor Your Property Investments Anytime, Anywhere
Traditionally Japanese Property Managers send income statements to overseas investors by email or post every month. Investors have to look through the statements every time they want to check the asset value or return on their real estate investment portfolio. It is not as easy as checking the status of their bank accounts or securities accounts online.
Therefore, WealthPark has built the App for overseas investors to monitor their overseas property investment portfolios anytime, anywhere. WealthPark App displays information including the total asset value, cash flow, income statement, rental yields and rental status of property investment portfolios of their overseas properties. In addition, investors can download the financial statements in PDF or Excel formats to save them separately and perform their own further analysis.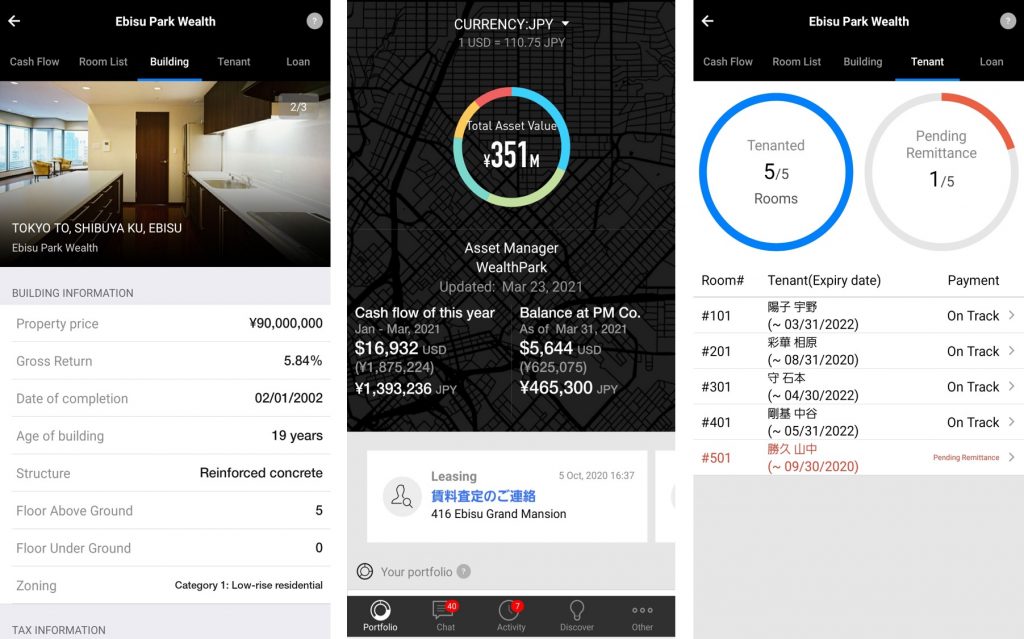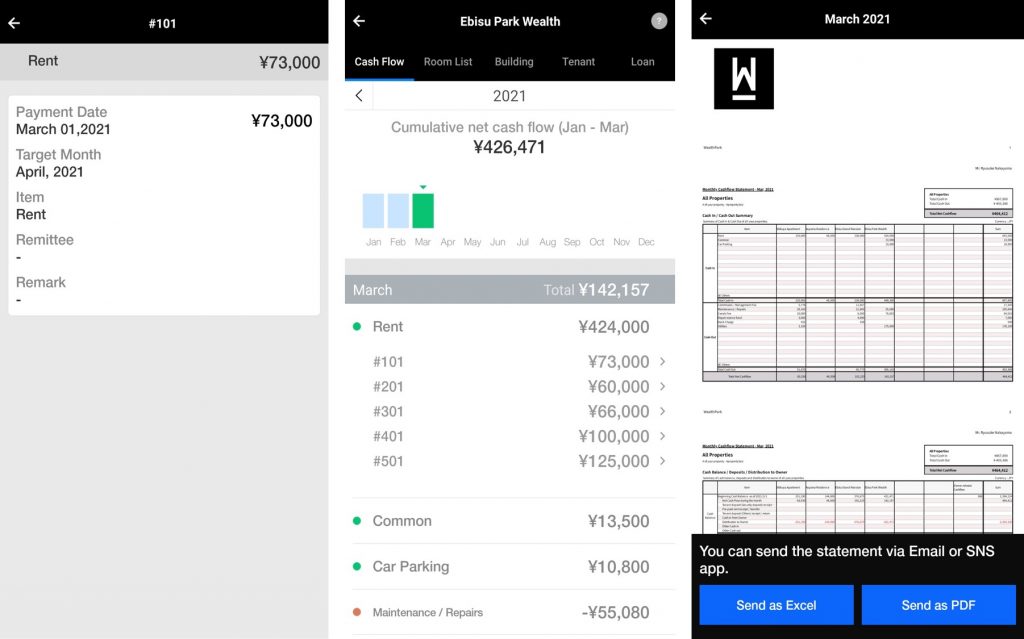 All Documents Electronically and Permanently Stored
There are many documents related to property investment and management, including sales and purchase agreement, leasing contract, insurance, and tax documents. These documents should be kept carefully for future use. Since these documents are traditionally prepared on paper, investors need to find a physical place to store them, and remember where they are stored.
In order to help investors prevent the loss of these documents and trouble of searching for these documents in the future, WealthPark stores all important documents by category electronically to the cloud for permanent storage.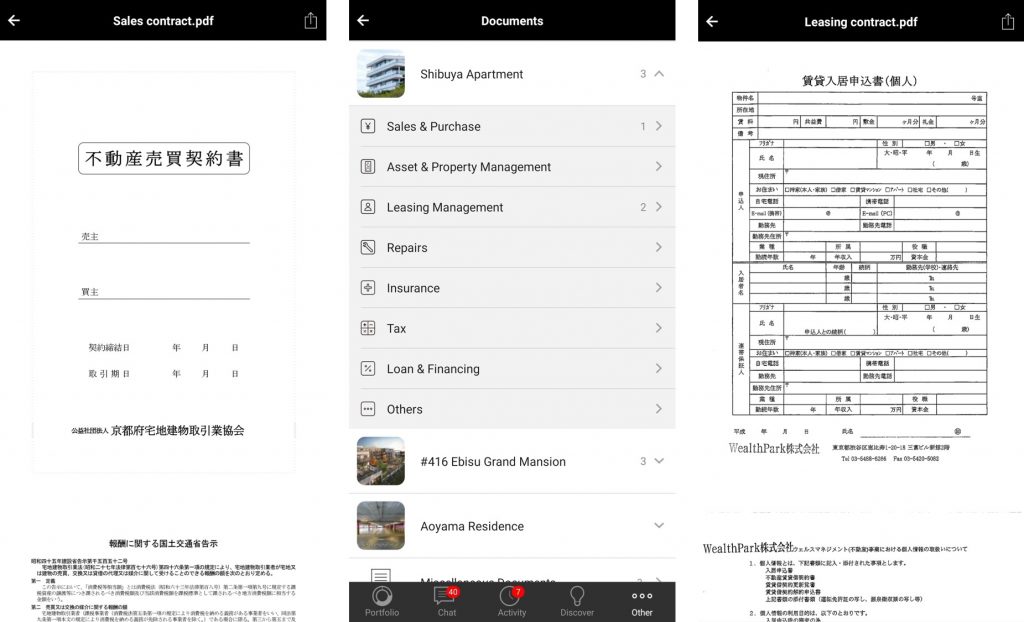 Direct Contact with Multi-lingual Property Managers
Due to language barriers, when investors want to inquire about the properties they own in Japan, they have to go through the real estate brokers who help them convey their inquiries to Property Managers. Meanwhile, Property Managers in Japan are not able to instantly provide investors with first-hand information, such as updates of property management, tenant status, Japanese property market trends, and insights. The communication between overseas investors and Property Managers is inefficient and timely information sharing is inadequate.
On WealthPark App there is a chat function specialized in property investment and management. Investors can directly contact WealthPark Property Managers in Chinese, English, and Japanese to discuss their property-related matters at their own convenience. WealthPark's chat function is different from other messaging Apps. The chat rooms are divided by various matters related to contracts, repairs, leasing, etc., and the dialogue is stored in the chat rooms. In this way, the inconvenience due to language barriers is resolved. Investors can request consultations more easily and receive news and updates from Property Managers more quickly.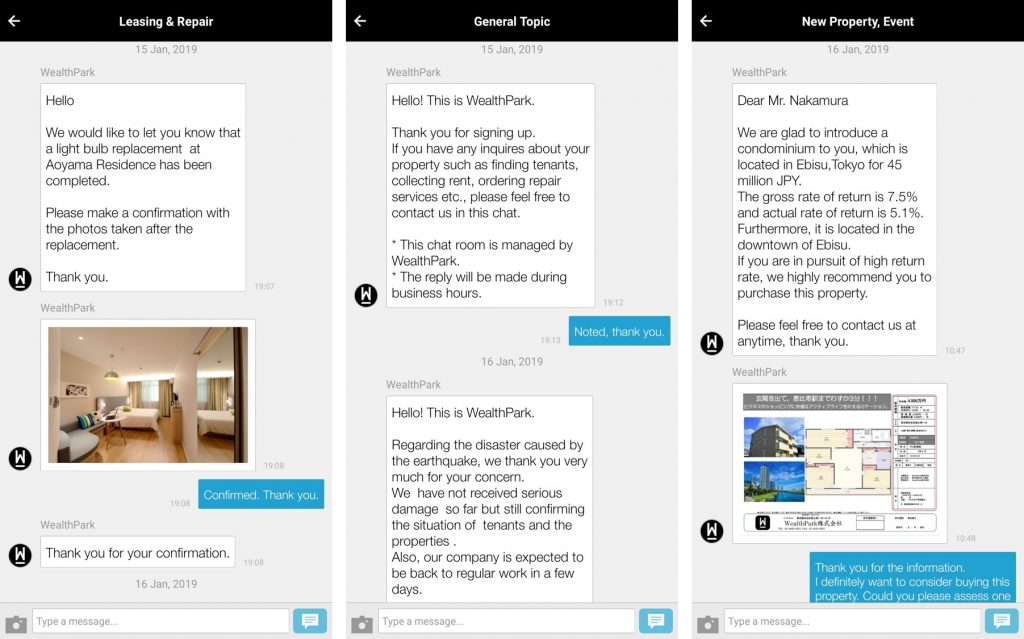 WealthPark's long-term goal is to establish a digital alternative asset platform. We have begun the journey from real estate asset class. We provide not only digital property management solutions but also research on optimal rent levels, tighter rent collection as well as tax consultation to help investors maximize their returns on real estate investments.
Install the WealthPark App now and click "Sign In as Guest" to try our demo!
(App Store, Google Play)
—
WealthPark is a real estate technology company that provides online and offline asset management services for overseas investors with properties in major cities of Japan, including Tokyo, Osaka, Yokohama, Nagoya, Kyoto, Fukuoka, and Sapporo.
WealthPark partners with real estate brokers and technology companies in order to provide investors with comprehensive asset management and property transaction services.
WealthPark will continue to expand its digital platform to create and improve user experience.
Contact Us:
https://wealth-park.com/en/corporate/contact/wp-am/
Homepage:
https://wealth-park.com/en/