Buying a Property in Tokyo | Adachi: Kita-Senju, Ayase & Kita-Ayase
In this "Buying a Property in Tokyo"' series, we will introduce the environment of Tokyo's wards with high yields, as well as their market performance and forecast. Let's explore property investment opportunities in Tokyo!
Adachi is the ward located between the Sumida River and Arakawa River in the north side of Tokyo, with a population of approximately 700,000. Its average property price is the lowest among Tokyo 23 wards. It was one of the main streets to Nikko during the Edo period and now still retains a lot of Shitamachi elements. Adachi used to give the impression that it was a downtown area vulnerable to flooding and poor public order. However, with the help of the redevelopments of the surrounding areas of several main stations, more residential buildings have been newly built, transportation to the city center has become faster and shopping has become more convenient. That greatly helps Adachi get rid of the impression of poor public order and create added value. Let us introduce areas where relatively more real estate transactions occurred in Adachi, namely Kita-Senju, Ayase, and Kita-Ayase.

Related Article: Top 10 Tokyo Wards with Highest Rental Yields of Existing Properties in 2020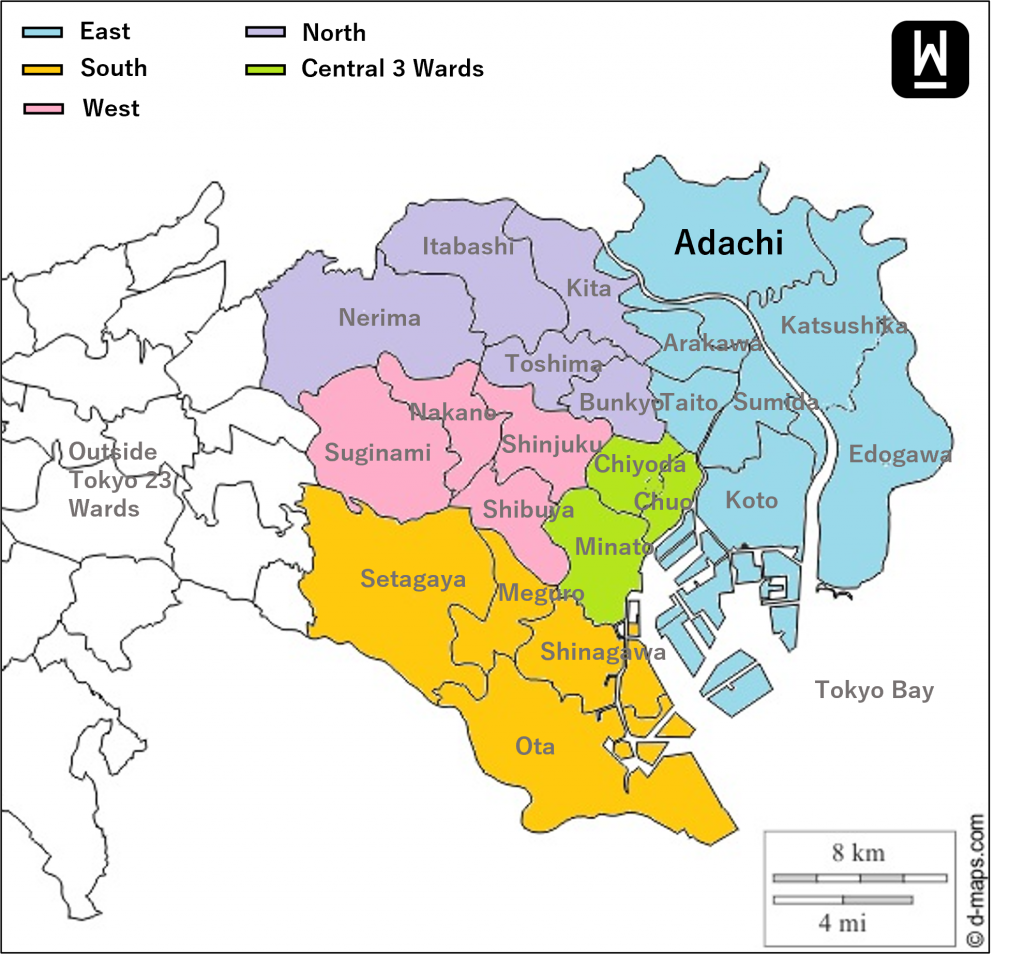 Kita-Senju is the Largest Railway Station in Adachi, Stop of 5 Lines
Kita-Senju has prospered since the Meiji era as a transportation hub. It is now developed into a large-scale railway station of five lines including JR Joban Line, Tokyo Metro Hibiya Line, Tokyo Metro Chiyoda Line, Tobu Skytree Line, and Tsukuba Express Line. Moreover, the coexistence of its main shopping street that retains retro-elements and the large-scale commercial facilities and university campuses built for urban development creates a harmony between the old and the new.
Kita-Senju is often ranked as one of the top 10 popular stations in Tokyo by the media. Not only are there large shopping malls next to the station, there are a growing number of modern and trendy shops serving the university students from Tokyo Denki University and Tokyo University of the Arts. Its main shopping street is one of the famous Showa era shopping streets in Tokyo, with many fashionable shops and bars well integrated. Along the Arakawa River close to Kita-Senju, there is also a Summer fireworks festival held every July.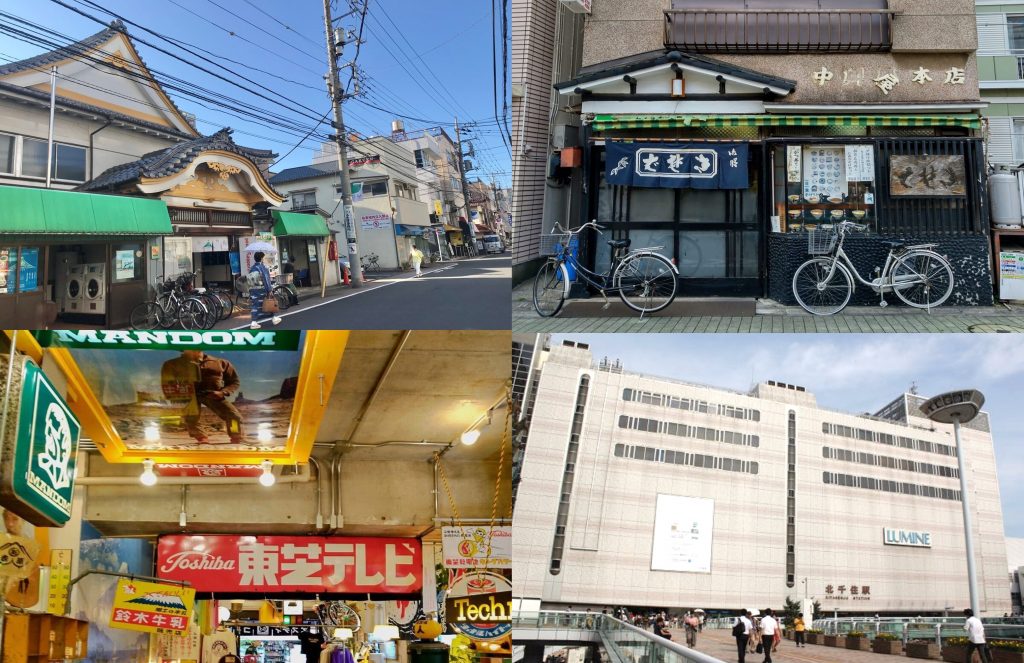 Redevelopment Plans for Ayase and Kita-Ayase
Ayase Station connects to Tokyo Metro Chiyoda Line and JR Joban Line, one stop next to Kita-Senju station. The redevelopment for the east side of Ayase Station that was started planning in 2015 was once suspended and recently got confirmed to implement. The construction of a traffic plaza is expected to be completed by the end of 2024. The city office also partnered with Sumitomo Real Estate to build a 30-storeys skyscraper with a height of 110 meters. There will be a variety of shops as well as nursery schools expected to drive local crowds.
In addition, there is a 2km-long Higashi Ayase Park nearby, which provides various facilities including tennis courts, baseball fields, martial arts halls and swimming pools.
Kita-Ayase is also a quiet residential area full of greenery. There is a park named Shobu Numa Park where there is a Japanese Iris Festival held on weekends in early June every year. Kita-Ayase Station is the last stop of Tokyo Chiyoda Line. It used to be a small local station mainly for people to transit in Ayase Station. Until 2019, the platform in the Kita-Ayase Station was expanded to serve 10-car trains, enabling direct reach to Yoyogi Uehara Station on the Tokyo Chiyoda Line. The population significantly increased since then, weaving the redevelopment plan for the surrounding area of Kita-Ayase Station to improve the overall living environment.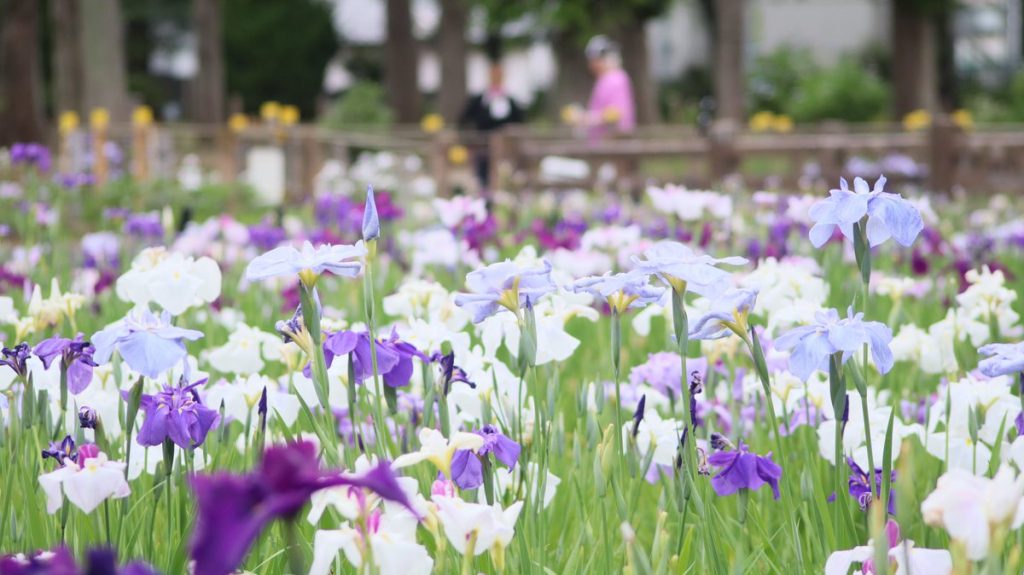 Property Valuation, Estimated Rent & Rental Yield Reference
According to real estate transaction data from the Ministry of Land, Infrastructure, Transport and Tourism, in 2020, the price growth of existing properties around Ayase Station was the highest among the three stations, with a year-on-year increase of 17%, followed by Kita-Senju Station's 12% and Kita-Ayase Station's 7%. The following existing property market information of Kita-Senju, Ayase, and Kita-Ayase are based on the estimates provided by the Proptech company PriceHubble based on its A.I. valuation model*.
The property criteria set include property age of 10 years and 30 years, property size between 30m² and 70m² and an around 5-minute walk from the railway station.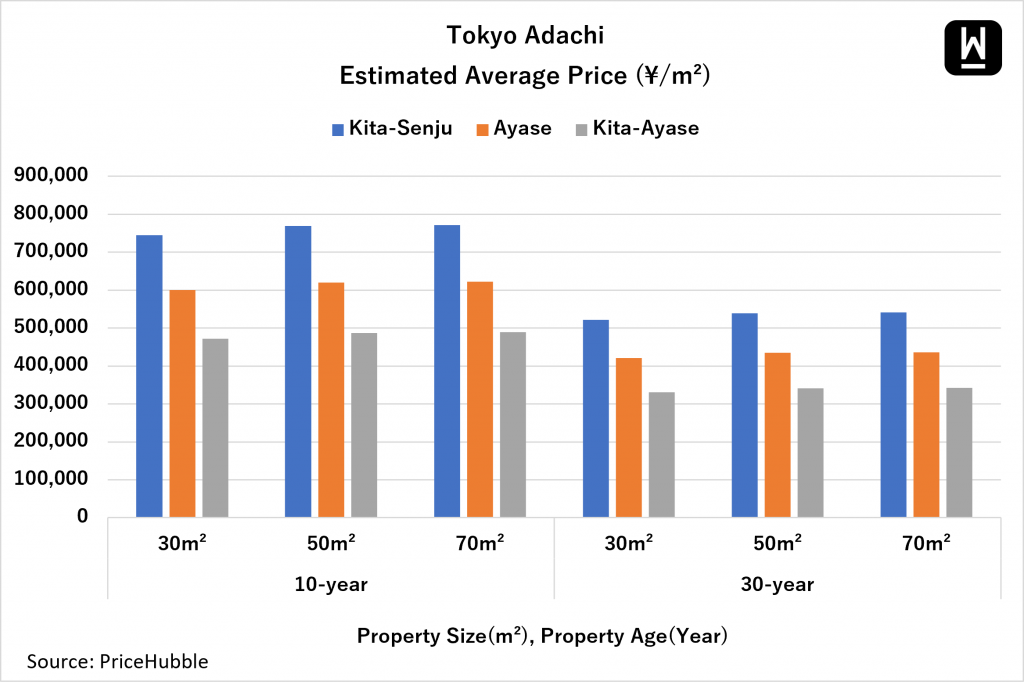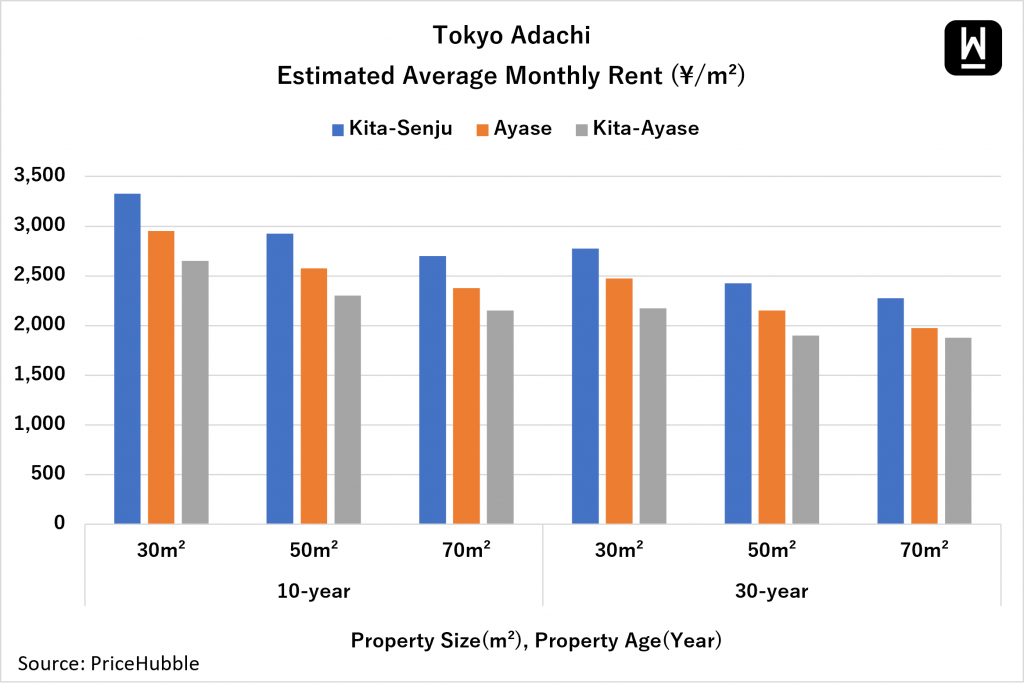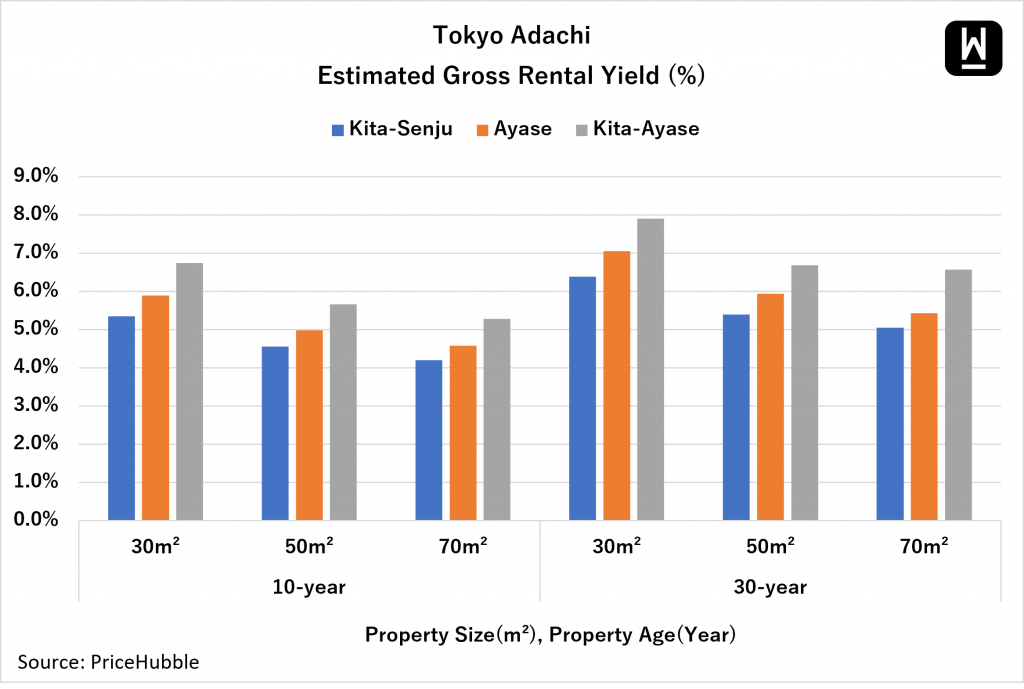 * based on the estimate results as at August 10, 2021
Click to check out estimated rental yields of Koiwa and Kasai in Edogawa
Click to check out estimated rental yields of Hirai, Chuo & Tobu in Edogawa
About PriceHubble
PriceHubble is a Swiss B2B proptech company that builds innovative digital solutions for the real estate industry based on property valuations and market insights. Leveraging big data, cutting-edge analytics and great visualization, PriceHubble's products suite brings a new level of transparency in the market, enabling their customers to make real estate and investment decisions based on the most accurate data-driven insights (such as valuations, market analyses, value forecasts or building simulations) and enhance the dialogue with end consumer. PriceHubble's digital solutions are designed to help all players across the entire real estate value chain (banks, asset managers, developers, property managers and real estate agents). PriceHubble is already active in 9 countries including Switzerland, France, Germany, Austria, Japan, and the Netherlands and employs more than 130 people worldwide.
—
WealthPark is a real estate technology company that provides online and offline asset management services for overseas investors with properties in major cities of Japan, including Tokyo, Osaka, Yokohama, Nagoya, Kyoto, Fukuoka, and Sapporo.
WealthPark partners with real estate brokers and technology companies in order to provide investors with comprehensive asset management and property transaction services. WealthPark will continue to expand its digital platform to create user experience.
Contact Us: https://wealth-park.com/en/asset-management/#hsforms