Buying a Property in Tokyo | Katsushika: Shin-Koiwa, Kanamachi & Kameari
Katsushika is a renowned Shitamachi area in Tokyo because the famous Japanese movie named "It's Tough Being a Man" was filmed there and the manga story named "Kochira Katsushika-ku Kameari Koen-mae Hashutsujo" occurred there. Meanwhile, several large-scale redevelopment projects are currently underway in various parts of Katsushika.
Among the 162 prefectures and cities nationwide, Katsushika ranked 2nd in the "Ranking of Areas Suitable for Parenting in Dual-Earner Couples" in 2020. This ranking is based on the evaluations of the supply and quality of nursery schools and childcare workers and assistance provided for dual-income families during the COVID-19 pandemic.
According to our analysis, Katsushika's average rent for existing properties is the lowest among Tokyo's 23 wards. Let us further explore the living environment and recent development of Shin-Koiwa, Kanamachi, and Kameari in Katsushika.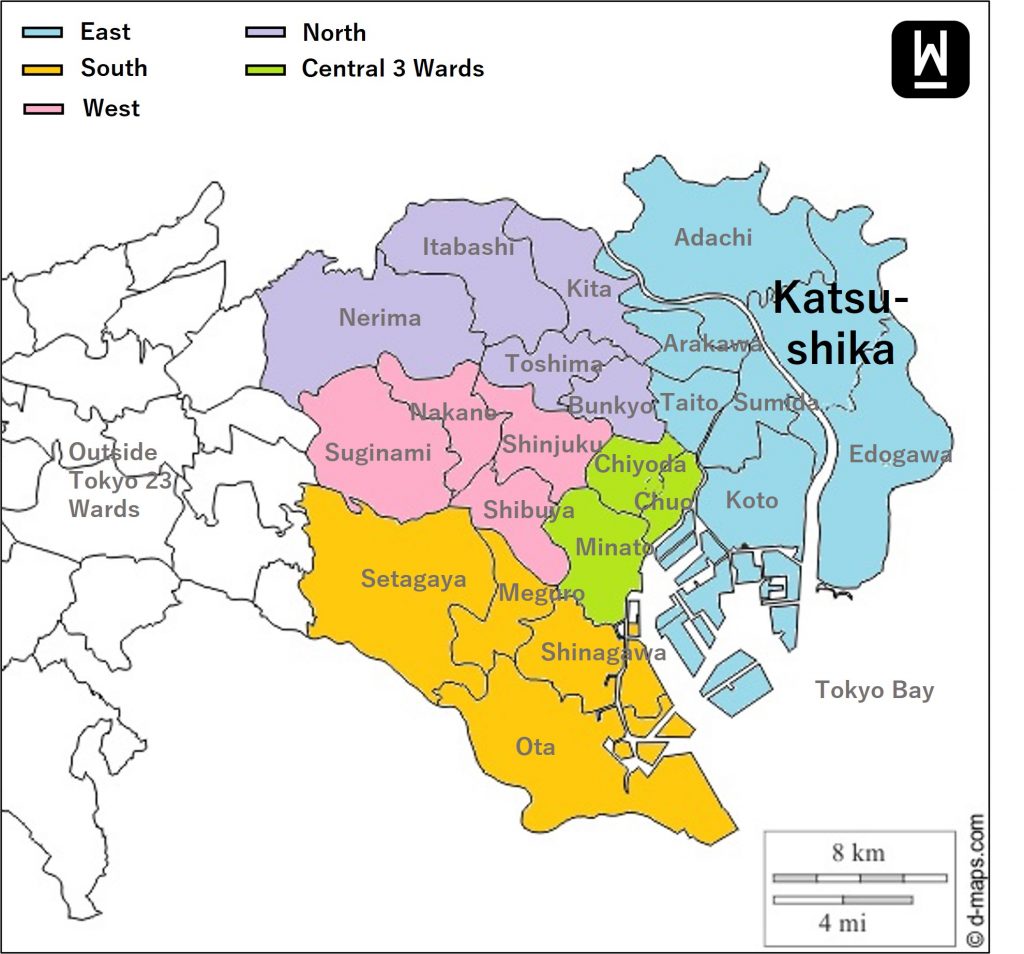 JR Redevelops South Exit Area of Shin-Koiwa Station to Increase Competitiveness
Although Shin-Koiwa and Koiwa are adjacent stations on the JR Chuo Sobu Line, according to the structure of Tokyo's 23 wards, Shin-Koiwa belongs to Katsushika and Koiwa belongs to Edogawa. Shin-Koiwa is one of the stations on the JR Sobu Rapid Line to get to not only Tokyo Station but also Kamakura and Yokosuka Stations in Kanagawa. As it takes only 15 minutes to get to Tokyo and Shinagawa, the transportation is convenient for commuters.
The landmarks in Shin-Koiwa include Lumiere Shopping Street and Shin-Koiwa Park located at the South exit of the Shin-Koiwa Station. Lumiere is the first shopping street in Katsushika. It is about 420 meters long and has about 140 shops. There are various activities held such as mochi making during the New Year and Awa Odori in Autumn.
At the North exit, there are Nishiibori Park and Shin-Koiwa Park that are recommended places for walking. There is also a shrine called Katori Shrine where a "god deer" once lived. Unfortunately, the deer passed away in March 2021. In the surrounding Katori Shrine, you can enjoy flowers in all four seasons. There are cherry blossoms in spring, red leaves, and red spider lilies in autumn.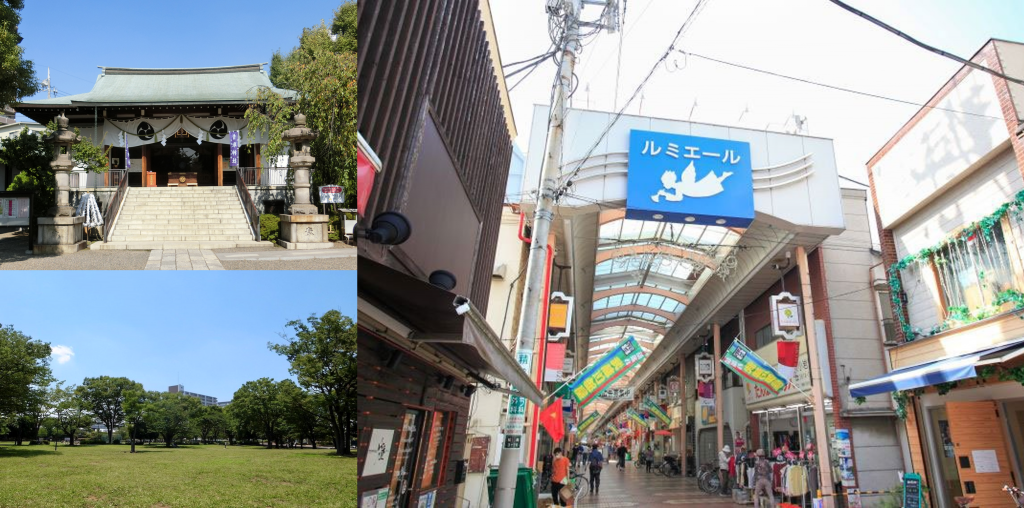 Kanamachi Is a Developing Cultural Area
Trains on the JR Joban Line and the Keisei Kanamachi Line stop at Kanamachi. As the JR Joban Line connects to the Metro Chiyoda Line, it takes about 25 minutes to reach commercial areas like Otemachi. People can transfer from Kita-Senju to the center of Tokyo center. It is also convenient to take the Keisei Kanamachi Line to Keisei Takasago Station, which has a direct train to Narita Airport.
Kanamachi used to be an industrial area full of factories. In 2013, the new campus of Tokyo University of Science was established at the North exit of Kanamachi Station. Since then, the North exit area where Mizumoto Park, the only park with a water landscape in Tokyo, is located has become full of greenery, culture, and education. The shopping street nearby has been named University of Science Shopping Street. Some campus facilities are also open to the community for use. The campus is connected to the park called Katsushika Niijuku Mirai Park. Besides, there are large-scale urban redevelopment projects currently underway at both the South and North exits.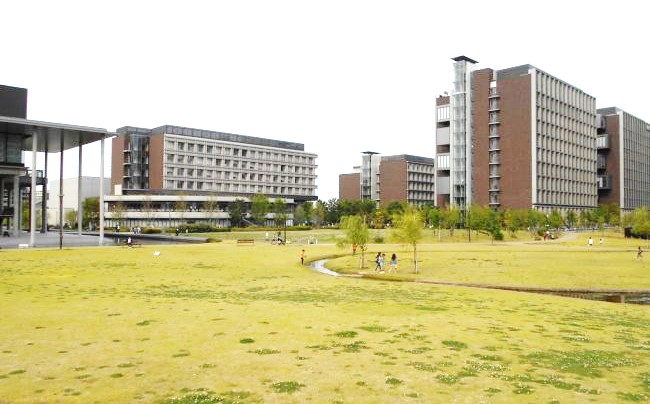 Between the two stations of Keisei Kanecho and Keisei Takasago, there is an Edo old town called Shibamata. It preserves the historical trajectory of the customs of the early Tokyo people, which is completely different from the current bustling Tokyo metropolis. It is also where the famous Japanese movie "It's Tough Being a Man" got filmed. Visitors love to come here to stroll along the old street and taste local snacks such as grass dumplings, rice crackers and Japanese sweets. At the end of the street, there is a well-known temple with a history of hundreds of years called "Shibamata Taishakuten". The hinterland of the territory is large. Visitors can take a break in the antique Japanese architecture and enjoy the garden scenery, letting the soul feel a moment of peace and relaxation without the hustle and bustle.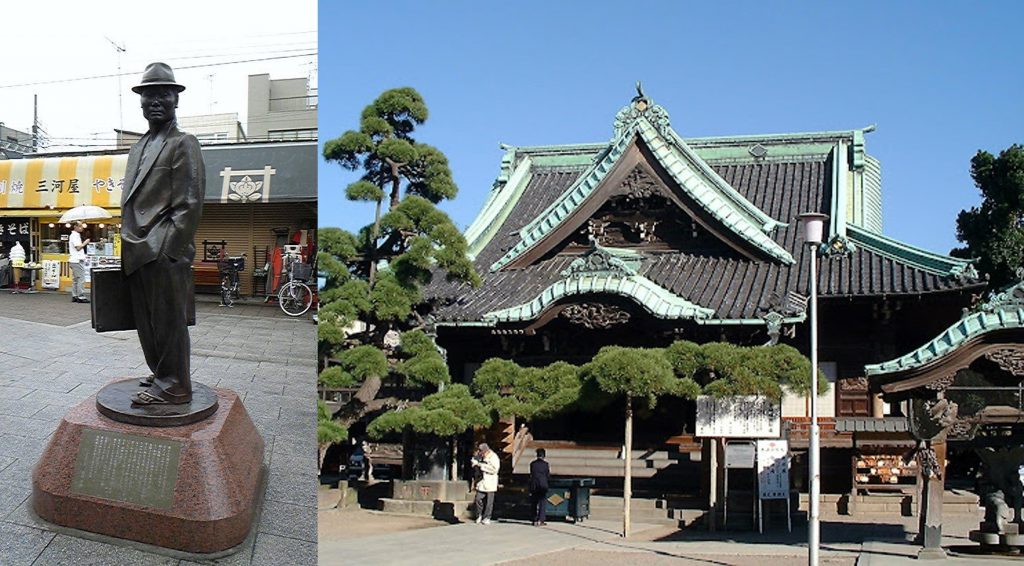 Manga Statues Are All over Kameari
Kameari is next to Kanamachi. It is also one of the stations along the JR Joban Line and is directly connected to the Metro Chiyoda Line. In the future, Kameari is expected to be one of the stations along new subway lines 7 & 8 (names undecided), potentially becoming a transportation hub connecting to Haneda Airport, Akabane, Toyosu, Futako Tamagawa, etc.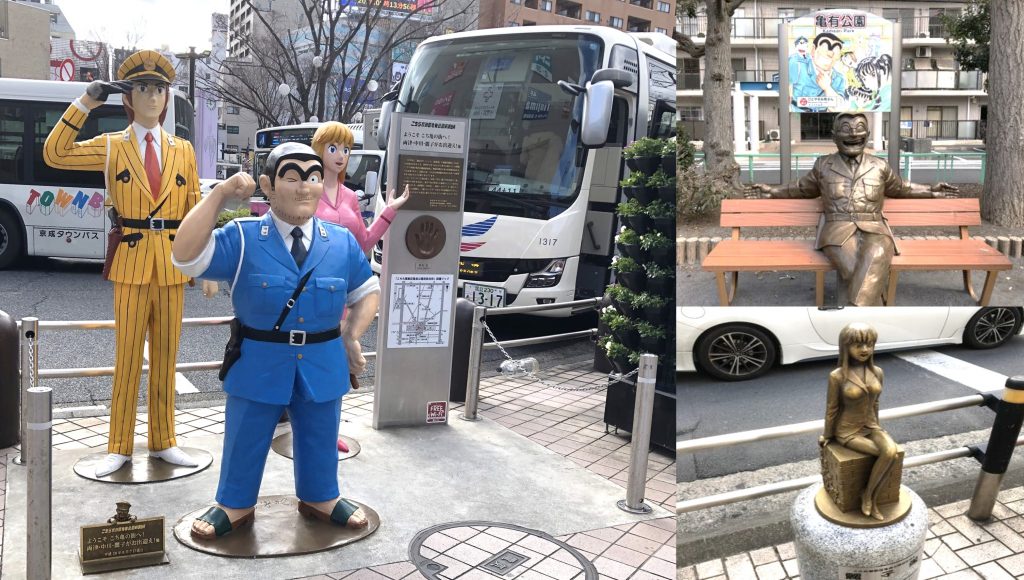 The most well-known attraction here is the manga character statue of "Kochira Katsushika-ku Kameari Koen-mae Hashutsujo". Visitors can follow the map of 15 manga character statues provided by the Kameari Station to explore Kameari. In terms of the living environment, while there is a shopping paradise named Ario Kameari with hundreds of shops, there is a shopping street that is full of Shitamachi style with the landscape of Japan's Showa era.
Property Valuation, Estimated Rent & Rental Yield Reference
According to real estate transaction data from the Ministry of Land, Infrastructure, Transport ,and Tourism, in 2020, the price growth of existing properties around Kanamachi was around 18%, the highest among the three stations, followed by Shin-Koiwa's 11% and Kameari's 3%. The following existing property market information of Shin-Koiwa, Kanamachi, and Kameari are based on the estimates provided by the Proptech company PriceHubble based on its A.I. valuation model*.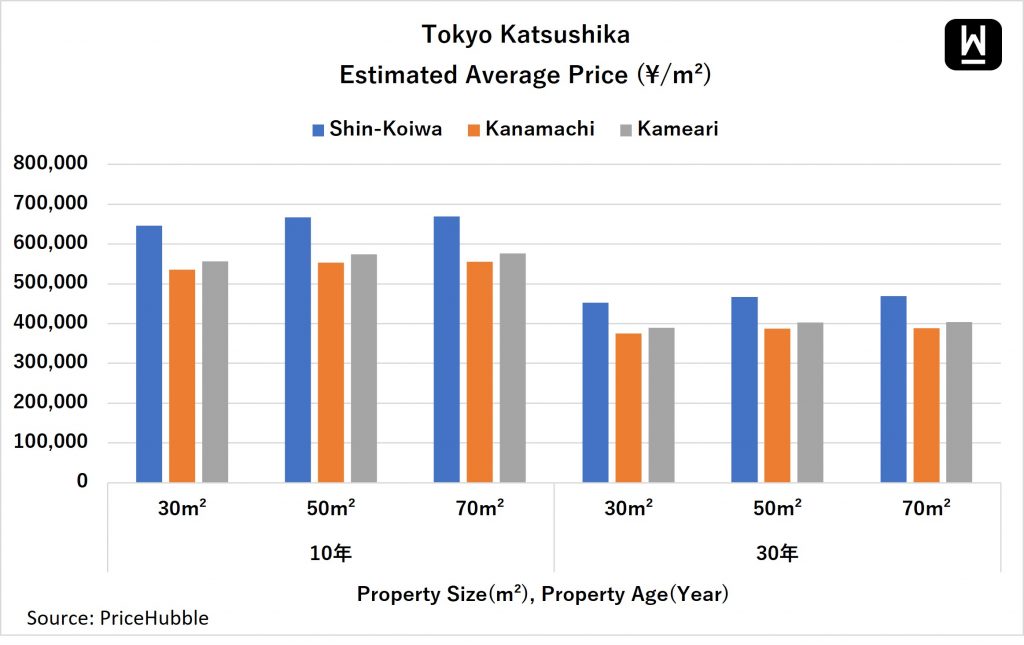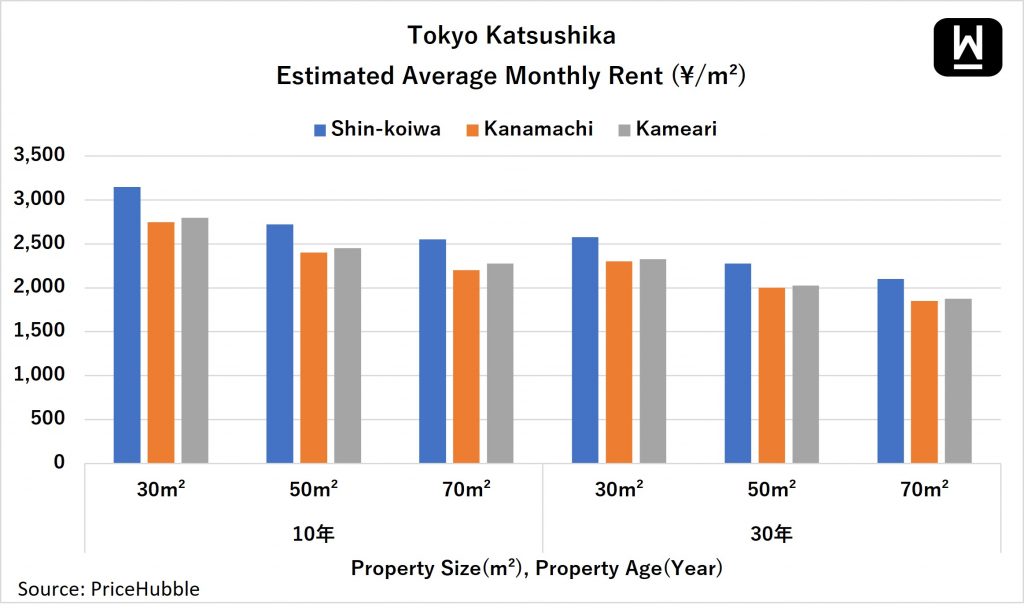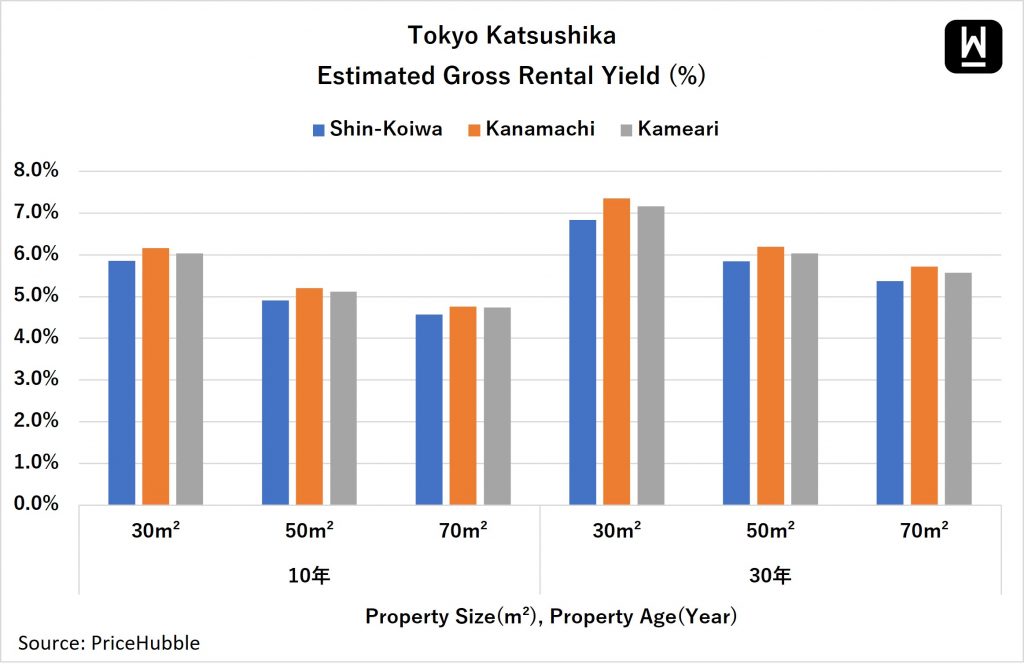 The property criteria set include property age of 10 years and 30 years, property size between 30m² and 70m² and an around 5-minute walk from the railway station.
* based on the estimate results as at October 13, 2021
About PriceHubble
PriceHubble is a Swiss B2B proptech company that builds innovative digital solutions for the real estate industry based on property valuations and market insights. Leveraging big data, cutting-edge analytics and great visualization, PriceHubble's products suite brings a new level of transparency in the market, enabling their customers to make real estate and investment decisions based on the most accurate data-driven insights (such as valuations, market analyses, value forecasts or building simulations) and enhance the dialogue with end consumer. PriceHubble's digital solutions are designed to help all players across the entire real estate value chain (banks, asset managers, developers, property managers and real estate agents). PriceHubble is already active in 9 countries including Switzerland, France, Germany, Austria, Japan, and the Netherlands and employs more than 130 people worldwide.
—
WealthPark is a real estate technology company that provides online and offline asset management services for overseas investors with properties in major cities of Japan, including Tokyo, Osaka, Yokohama, Nagoya, Kyoto, Fukuoka, and Sapporo.
WealthPark partners with real estate brokers and technology companies in order to provide investors with comprehensive asset management and property transaction services. WealthPark will continue to expand its digital platform to create user experience.
Contact Us: https://wealth-park.com/en/asset-management/#hsforms